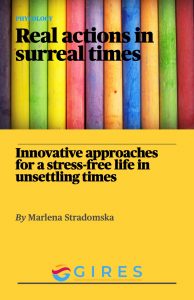 Real actions in surreal times
Author: Marlena Stradomska
Category:Psychology
Publisher: GIRES Press
Publish: September 2020
ISBN/ISSN:TBA
Pages: 200 Pages
Country of Publication: The Netherlands
Language: English
Dimension:
File Size:
The Book
In our new endeavor, GIRES-the Global Institute for Research, Education & Scholarship has the honor to welcome, the phycologist and author, Marlena Stradomska. In her new book, she shares her views on how we can overcome the obstacles the pandemic caused in our life and manage the phycological burden of this unprecedented times A trainer and an academic lecturer, Marlena shares innovative techniques and offers useful advice on how we can cope with such a stressful new reality.
The global phenomenon of the pandemic and the lockdowns enacted in most of the part of the world altered our lives in many levels. The impact of Covid-19 was harsh and all the changes  appeared suddenly in our lives, increasingly demanding a concrete response from us. Talking about our own problems is difficult and it will not become easier if we use a communicator or a telephone, while we are still far apart. Remote contact with a friend or psychologist is not enough to make us feel better and it really makes sense.
The e-book "Coping strategies during a pandemic and not only" is the answer to the most common and current questions addressed to a psychologist-practitioner. For the sake of our health and safety, psychologists, educators, philosophers, interns, students, academic lecturers, graphic designers, interior architects and representatives of many other fields and social groups joined the creation of there publications.
The guide will appear in the form of an ebook and will be available both during and after the pandemic, when we return to our "old" but "new" everyday life. The advice it contains does not have an expiration date, it will remain useful when dealing with daily hardships, which are always present in our life.
It is separated in several parts so the reader can easily find the information and understand  step-by-step the way to a better life during and after the Covid-19 era.
The books offer proposed strategies for use during a reality that does not allow much interaction with other people such the case of the surreal lockdowns due to the pandemic. However, what we propose here is the ability of people to adapt in the current conditions and also balance their mental, physical and phycological state. If the reality is demanding we should not give up; we should work with a systematic way so we can always be happy and productive.
A fresh and friendly approach for overcoming difficult times and conditions. We need the strategies-and our books share them with you- innovative techniques-we have them too- along with fun activities and exercises to keep us healthy and active. What we look for is positive energy and smiles! What do you think? Will you share your positive thinking?
Table of Contents
BOOK I
Table of contents
Note from the author
What is motivation?
How to motivate yourself?
Imagine that your goal is achieved
Benefits of achieving the goal and completing the task
Create an action plan
Time-band designated method, or how to deal with activities that we hate?
Tell yourself "(number) minutes no more!"
During a pandemic, do you feel that tasks, activities … are overwhelming?
On dealing with emotions …
Child at school – parent with child
Learning with a child at home, or how to make a child like doing homework.
What makes a child like learning?
How can a parent get involved in a child's school life?
What to avoid when working with a child?
How to motivate a child to learn?
I do my homework for my child every day – should it be this way?
First, let's think about why parents help with tasks at all?
Why shouldn't you do homework for your child?
A teacher is someone who replaces a parent at school. Let him build authority.
"Decalogue" agreement of parents and teachers
What about our time during a pandemic?
Shared time more valuable than any toy?
For those who are thinking about ways to spend time together, we are rushing with ideas
How can you deal with all your household members?
Proposed strategies for use during a pandemic
BOOK II
Table of contents
Delaying activities in time – what is it?
Why do you delay the performance of specific tasks?
Tips – how to persevere in action?
Selected planning methods
What can you do not to waste your free time?
How to teach a child independence in learning?
How to rebuild relationships and improve communication at home?
Is the child's school more important than the parent's job?
What about the lack of time?
What to do if the parent is accompanied by uncertainty?
Why it is important not to speak badly about the teacher in the presence of the child
Critical analysis of the teacher's work
School failures
How to deal with a child who does not listen to me and "I am fed up with him"?
"Difficult children" – what does it mean?
What to do in situations when a child rebels?
The Author
Marlena Stradomska is a specialized licensed psychologist, trainer and academic lecturer from Poland. For years, she has been cooperating with foundations, associations, educational and voluntary institutions in which she conducts workshops and offers lectures and specialized trainings.
She works as a specialist in promotional activities at Maria Skłodowska-Curie University in Poland. She has collaborated with the organization "UMCS Open Doors" along with  journalists of Wirtualna Polska, Onet and other platforms promoting issues related to 21st century communication challenges. Since 2016, she is  the Vice President of the Polish Suicidological Society, at the Lublin Branch, where, in addition to working with the patient, she conducted a number of activities promoting PTS.
Marlena is also a PhD student at the Faculty of Philosophy and Sociology, Maria Curie-Skłodowska University in the field of Science of Cognition and Social Communication, working on the ethical aspects of communication. From 2017, she is the head of the sociotherapeutic facility – Nowa Kuźnia Society in Lublin of the Tatary district.
Marlena  Stradomska, is the author of over 60 articles and chapters in monographs and popular science works on media and her works, among other fields, is related to cyberspace and implementation of preventive and research projects.